Education:
University of Mississippi – Computer Science and Business
Fort Lewis College – BA in Sociology and Minor in History
Grand Canyon University – Masters Degree in Education
Clayton College – Doctorate in Natural Health and Naturopathy
I want to say a quick word about Clayton College. Unfortunately, there are some people who disparage the school and its graduates due to their naivete and lack of understanding, or simply their own personal agendas. This program was considered controversial at the time because they offered a doctor of naturopathy. There were only two other schools in the United States that offered this degree, and they were both medical schools in the Northwest. These rival schools were pushing for all naturopaths to be medically licensed by the government. I had no interest in going to medical school or jumping through hoops to get a government sanctioned naturopathic license, nor to open a practice in naturopathy. This degree was for me and my healing, not for my career or recognition, so I chose Clayton College.
The practice of naturopathy has always been an unlicensed practice, and still is in most parts of the world. There are only a few states that require naturopaths to be licensed by the state. The two schools in the Northwest had a problem with Clayton College because their degrees were for natural naturopathy and did not require a license. Their issue was not with the education of the school, but issues within the medical community.
Clayton College of Natural Health was a non-traditionally accredited college. The organizations that accredit the college are private associations that offer professional accreditation in naturopathy, holistic nutrition and other areas of natural health. Clayton College was licensed by the Alabama Department of Post-secondary Education. The PhD in Holistic Nutrition with Clayton College has been approved by the National Association of Nutrition Professionals. The International Organization of Nutritional Consultants in Canada lists Clayton College as an approved school. The school was also accredited by the American Association of Drugless Practitioners(A.A.D.P.) and the American Naturopathic Medical Accreditation Board (A.N.M.A.B.).
In addition, graduates of Clayton College are represented and supported by the American Naturopathic Medical Association. Furthermore, doctorate degrees from Clayton College are also recognized by state and federal organizations, such as public schools and government organizations. My degree has been recognized and accepted by the State of Colorado as a legitimate degree, and the coursework has been accepted for my pay scale and for my teaching endorsement. Clayton College had completed all requirements to be regionally accredited as well, but when the recession hit, they ended up closing their doors in 2010, along with many other schools, organizations and businesses. Click here for more information on Clayton College.
Martial Arts Rank and Title:
My official martial arts training began in 1984 under the instruction of Bob and Nikki Allen. Since that time I have had several different instructors, as we had to move around because of school and work. I earned my first black belt in Shotokan karate in 1996 under Shihan William Jackson and continued training with under his direction, up through the rank of Go Dan in 2005 which is also signed and certified by Cindy Jackson and Soke Richard Hallman.
In September of 2014, I was honored with the Honorary Title of Hanshi. This award was given to me as a lifetime achievement award for my contributions in the martial arts community. This is a great honor for me, not necessarily because of the title, but because of the great men who felt that I was worthy of being honored in such a way as this. The title of Hanshi was given to me by the following martial artists:
Sifu Al Dacascos: Founder of Wun Hop Kuen Do, winner of over 200 championships, the Black Belt Hall of Fame Instructor of the year in 1977, Inside Jung Fu Magazine Instructor of the Year in 1992, has instructed agents from the FBI, U.S. Army Airborne Ranger, U.S. Marshals, and the German military and police.
Grandmaster Phil Torres: Colonel U. S. Marine Corps, Advisor to the Commandant of the Marine Corps in Washington DC, Chief of Nuclear Security Policy and Chief of Command Security for the United States Strategic Command, the Silver Star Medal, the Legion of Merit, the Defense Meritorious Service Medal, four Meritorious Service Medals, the Navy Marine Corps Commendation Medal with combat V, the Navy Marine Corps Achievement Medal, and the Combat Action Ribbon, and Secretary of Defense appointee to a Department of Defense.
Grandmaster Eddie Mapula, Sr.: 3-time world kickboxing champion, regional director for Chuck Norris for 27 years, 2009 Martial Arts Hall of Fame, instructor of military and police personnel.
Bill Holman: Self-defense and martial arts trainer for both military and law enforcement.
Soke Rick Hallman: Shodai Soke, 10th Dan in Aido Ryu Jiu-Jitsu and lifetime member of the United States Soke Council.
Grandmaster Richard Hackworth: 10th Dan in Hapkido and the founder of World Martial Arts Magazine.
Grandmaster Joy Turberville: First woman in the United States to be rated as a fighter (Professional Karate Magazine 1973), first and only woman to be rated in top ten men's division as a fighter (Professional Karate Magazine 1973), first women to receive the rank of black belt in the Yuan Wha Ryu Karate system, (referance: Grand Master Man Hee Han), 5th dan in this style, first and only woman to achieve the rank of 10th dan in the Texas National Tae Kwon Do Federation, first woman to be promoted to the rank of black belt in Karate Shin Toshi, 5th Dan in Song Moo Kwan Karate, first and only woman to be chosen by a group of about 30 Korean ROKS (Republic of Korea Marines) as a student (San Antonio Tex. Brooks AFB 1968), and first and only woman to be promoted to rank of black belt by Grand Master Larry Caster in Chinese Kenpo.
Grandmaster Terrence Shae: Head of the Board of Promotions TAI Martial Arts Association, ACA Defensive Arts Services, 8th Dan.

Shihan Dana Abbott: Black Belt Magazine Hall of Fame (Weapons Instructor of the Year 2004), Martial Arts History Museum (Excellence in the Martial Arts 2014), 7th Dan.
Grandmaster Dan Tosh: Shorin-ryu Karate since 1958 and now holds the rank of 10th degree black belt. Dr. Tosh has a Ph.D. in economics, as well as a law degree, and has served as an adjunct professor for Novus Law School.

Grandmaster Harry Mok: Stuntman, actor, producer, director, writer, and GSKA Black Belt Hall of Fame. In January 2007, he was inducted into the World Martial Arts Masters Hall of Fame. Harry is an 8 time Martial Arts Hall of Fame Inductee. 10th Dan.

Grandmaster Harry Greene: Long Rang Recon, 101st airborne, 5th Special Forces, the 503rd Rock, South Korean Special forces, 173rd Airborne, teaches Special Forces Combative Knife, 10th Dan.

Grandmaster Dave Johnson, MBA: ISF 9th Dan, WTF 6th Dan, ICHF 4th Dan, and ISKA 3rd Dan. President of Tactical Security International and President of Hall of Masters Elite Black Belt Hall of Fame. Adjunct professor at National University and the University of Phoenix.

Grandmaster Eric Lee: Actor and writer, 7th degree black black in Wun Hop Kuen Do, and 9th degree black belt in Kajukenbo. He is a 25-time Black Belt and Hall of Fame Honoree, the undefeated forms and weapons champion from 1970-1974, and the winner of over 100 world titles. He is known as the "King of Kata."
* A quick note for those who are not familiar with the term "Hanshi." The term Hanshi means teacher of teachers. "Han" (範) means example, model or pattern. "Shi" (士) means gentleman, samurai or warrior, or scholar. As the title implies, the person is literally a "model-person," a teacher of teachers. A Hanshi also makes significant contributions to the martial arts and lives by the principles of his art. This is the title that some of the top martial artists have bestowed on me, and I am humbled, honored, and grateful to receive it.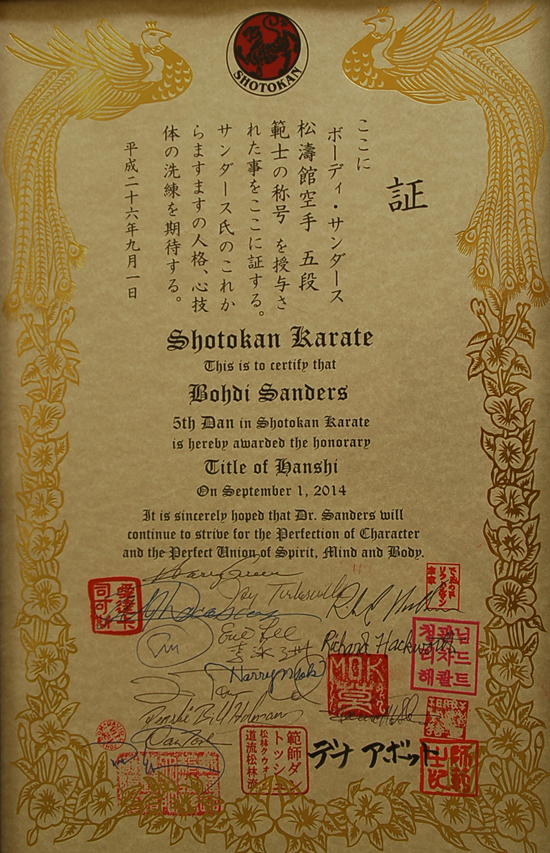 On March 29, 2017 I was awarded the official Title of SHIHAN by Soke Richard E. Hallman. This was a great honor for me and came completely unexpected. Soke Hallman is an amazing martial artist who has an impeccable martial arts background. Being awarded the title of Shihan from a martial artist such as Soke Hallman is truly an honor. This title award is also signed and certified by: Soke Stephen Barber, 10th Dan, Soke-Dai Scot E. Philips, and Renshi Young Author Smith, III.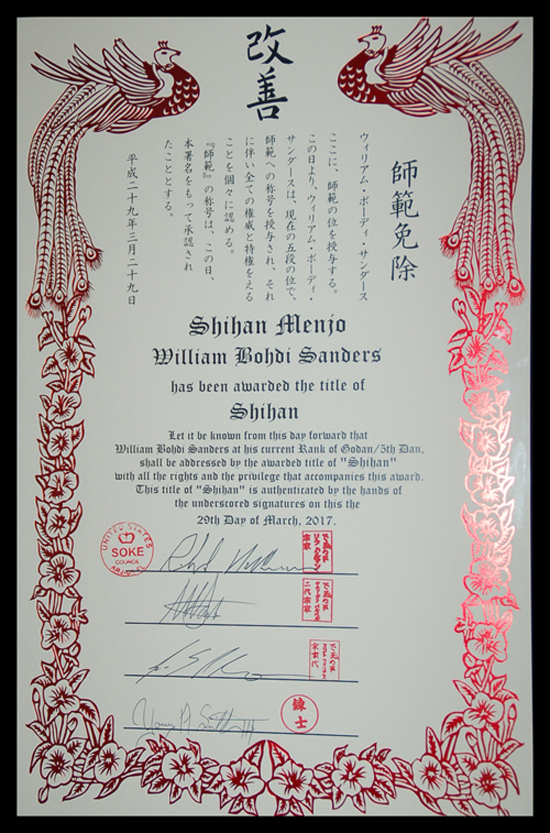 National Book

Awards:
Below is a list of book awards that I have received. The National Indie Excellence Awards and the USA Book News Best Books Awards are two of the most esteemed book award competitions in the United States. They receive thousands of book entries each year and only a handful are lucky enough to be winners. In fact, these competitions are so esteemed that even those whose books receive finalists awards, instead of 1st place awards, advertise that as a huge achievement.
Three of my books have won 1st place awards in these competitions, including my first book, Warrior Wisdom: Ageless Wisdom for the Modern Warrior, Wisdom of the Elders, and Modern Bushido: Living a Life of Excellence. Modern Bushido actually won a 1st place award in BOTH competitions.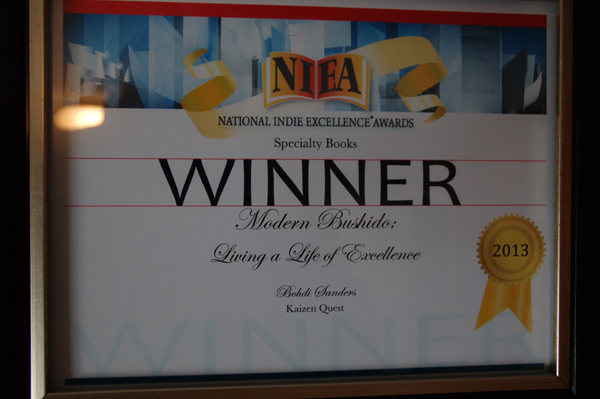 Martial Arts Hall of Fame Inductions:
I have also been nominated and inducted into several martial arts halls of fame. These have been great honors for me because those who truly know me and my work have thought highly enough of me to nominate me for these awards. Here is a list of my martial arts hall of fame awards. Here is the list, along with the contact information for each hall of fame:
• U.S.A. Martial Arts Hall of Fame – Warrior Award – 2013
~~ To verify this, call Jim Thomas at: 808-778-8768 ~~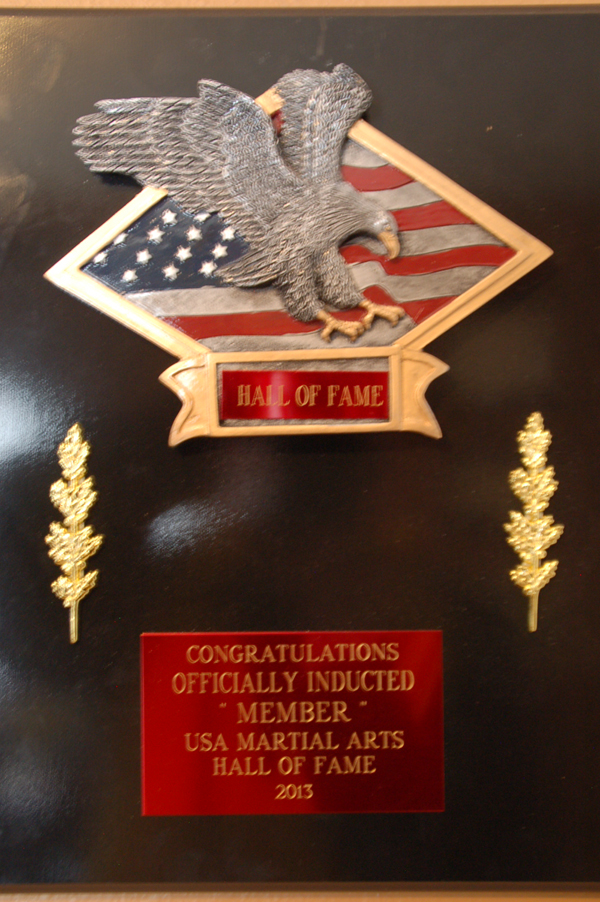 • The International Independent Martial Artist Association Hall of Fame – Best Martial Arts Books of the Year – 2011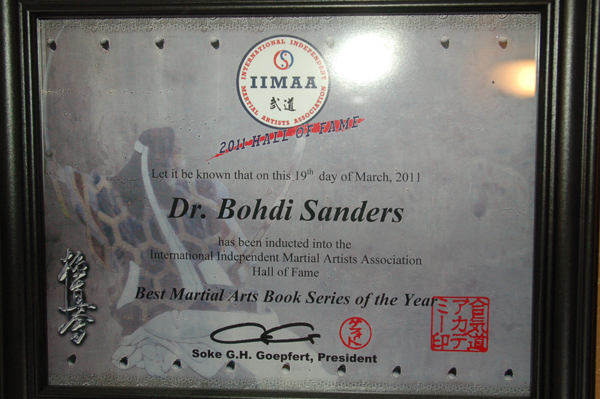 • U.S.A. Martial Arts Hall of Fame – Martial Arts Literary Man of the Year – 2011
~~ To verify this, call Jim Thomas at: 808-778-8768 ~~


• The United States Martial Artist Association Hall of Fame – Inspiration of the Year – 2011
~~ To verify this, call GM William A. Rankin at: 301-524-7819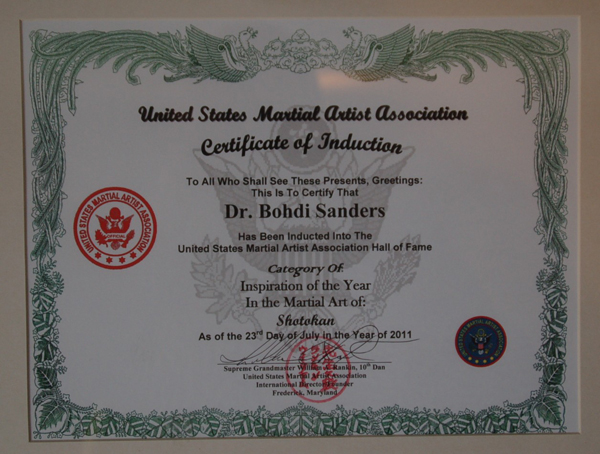 • United States Martial Arts Hall of Fame – Martial Arts Author of the Year – 2011
~~ To verify this, call Professor Marty Hale at: 501-582-5425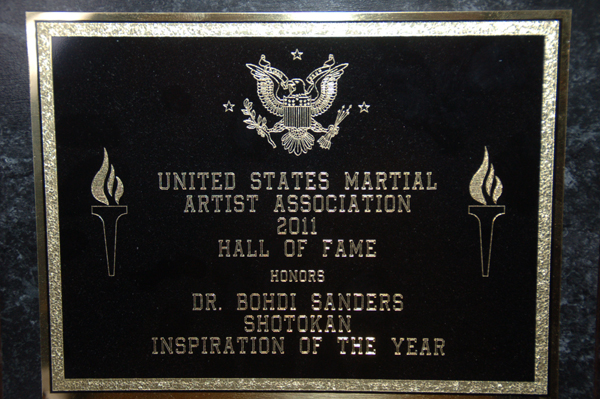 Certifications:
* Certified Personal Trainer – International Sports Science Association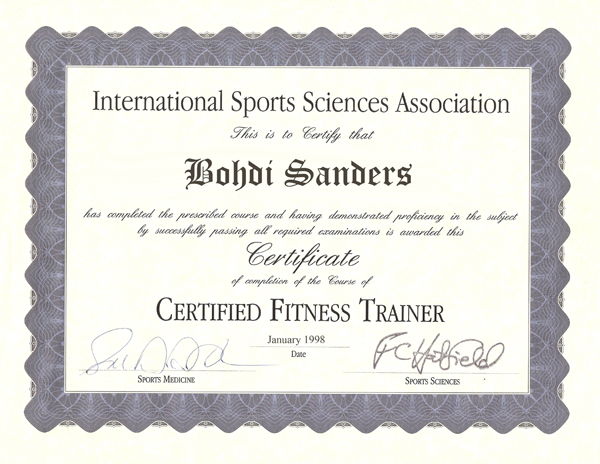 * Certified Specialist in Martial Arts Conditioning – International Sports Science Association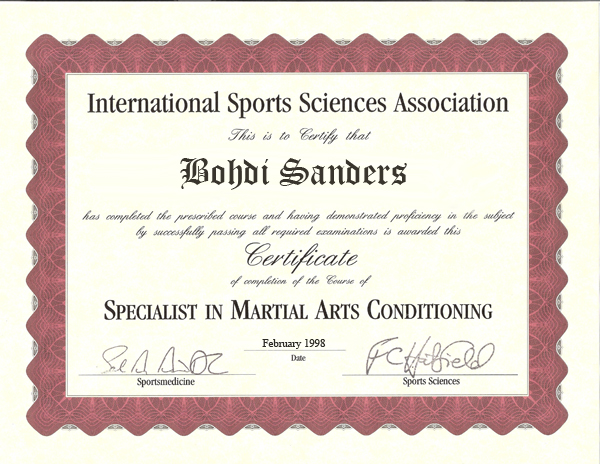 * Usui-Tibetan Reiki Master – from renown Reiki Master, Cathy Cole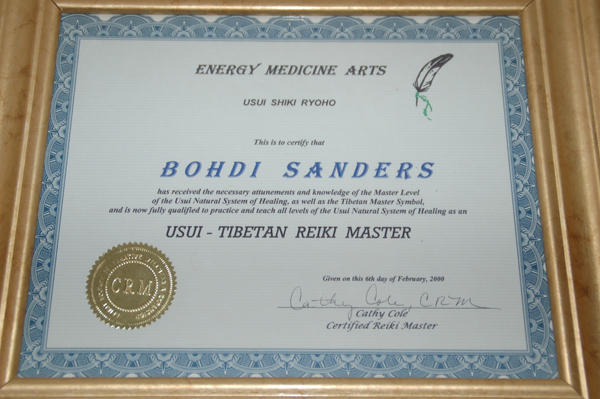 * Master of G-Jo Acupressure – The Healing Institute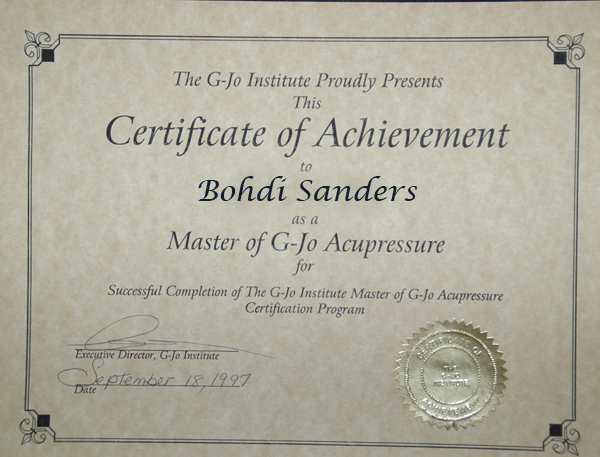 * Here is a great article on G-Jo Acupressure from Mother Earth News: G-Jo Healing
* Teaching License from the Colorado Department of Education (not shown)
Dr. Sanders can be reached at WarriorWisdom@comcast.net