Warrior Wisdom & The Warrior Lifestyle

Isn't it time that you started living your life to the fullest? The sands of time stop for no one and you have so many mountains still to climb. Today's the day to start living the WARRIOR LIFESTYLE! You won't be disappointed! Join the 1,000's of others who have already discovered the power behind the warrior lifestyle.
Please feel free to explore the dozens of enlightening articles and thought provoking insights on THE WISDOM WARRIOR site.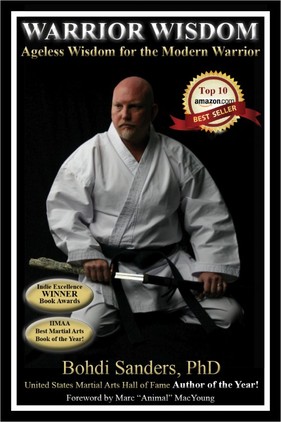 Also, check out Dr. Sanders enlightening Award Winning Books which guide you on your journey through the warrior lifestyle to ultimate self-knowledge and  purpose in life.
The side bar offers many useful tools to find what you need:
Enjoy exploring the site. You never know when you will find that quote or enlightening piece of wisdom that will change your life! And check back regularly. Interesting articles, photographs, information, shared information from other sites, and more will be added weekly!

And don't forget to sign up to get your
FREE NEWSLETTER!
So, who is the Wisdom Warrior?
The Wisdom Warrior is Dr. Bohdi Sanders, a multiple award-winning author of over 8 books on martial arts philosophy and the science of living life to the fullest. His writing focuses on integrating universal wisdom, honor, and integrity into one's personal life. He has won 9 national awards for his writing and his contributions to the martial arts.
Dr. Sanders is also a renowned martial artist of over 31 years and a Martial Arts Hall of Fame inductee. He has trained in Shotokan Karate, Ninjutsu, Jujutsu, and Krav Maga. In addition, Dr. Sanders has extensive training in the holistic arts. He has a doctorate in Natural Health and Naturopathy, and is a certified Master of Acupressure and a Usui-Tibetan Reiki Master.
Dr. Sanders is also a Certified Specialist in Martial Arts Conditioning and a Certified Personal Fitness Trainer through the nationally accredited International Sports Science Association. His scope of knowledge also includes extensive training in the fields of survival arts, meditation, bodywork, and herbology.
His books and articles are very popular with martial artists, military personnel, law enforcement officers, and people who simply want to improve their lives and live life to the fullest. His book, MODERN BUSHIDO, hit the #1 spot on Amazon.com, and amazingly, maintained a spot in the TOP 10 on Amazon.com's Bestseller List for 94 WEEKS!
Each of his other books, WARRIOR WISDOM: Ageless Wisdom for the Modern Warrior, WARRIOR: The Way of Warriorhood, The Warrior Lifestyle, Defensive Living: The Other Side of Self-Defense, and Wisdom of the Elders, have also hit the TOP 10 on the Amazon.com Bestsellers List! In addition to his books, Dr. Sanders has written over 200 articles on subjects of interest to people who are interested in living life to the fullest, with honor and gusto, and is currently a columnist for TaeKwondo Times Magazine. He also has a very large following on his Facebook page, Warrior Wisdom and the Warrior Lifestyle.
All of Dr. Sanders' training has been integrated into a holistic way of life which he calls the Warrior Lifestyle. The Warrior Lifestyle goes much further than the basic martial arts lifestyle, encompassing spiritual, mental, and physical aspects of living life to the fullest. He is  known for his innovative way of integrating worldly wisdom from throughout the ages with the martial arts and living life to the fullest. This lifestyle focuses on the perfection of character, honor, and integrity, as well as defensive living and various spiritual aspects.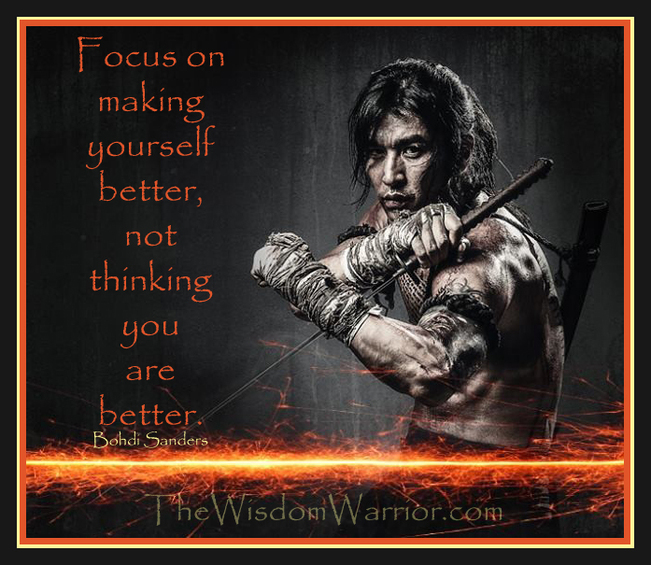 ___________________________________________________________________________________________________________
It's rare to find a book so rich and thought provoking that you can read it again and again and get something a little different out of it each time. Indeed, there isn't a quotation and discussion in here that doesn't pertain to each of us… I highly recommend Warrior Wisdom…Read this book, and then read it again and again and again.
Loren Christensen, author of Warrior Mindset

 It is a thinking person's guide to development as a martial artist, warrior, and human being. And, it's something worth reading more than once.
Lawrence Kane, author of: The Way to Black Belt
Dr. Sanders'  books are what modern day martial artists need. The knowledge that they offers to a new generation can be considered vital to the continuation of the true path of the warrior.
However, his books offers much more than that. They could also be described as  guidebooks for the perfection of character, something that everyone, not only martial artists can benefit from. If more people were to understand the concepts of integrity, honor, and service towards others, the world would probably be a much nicer place to live.
Dr. Sanders has compiled  fantastic resources for warrior training. The format is wonderful. The depth of his books reflects Dr. Sanders own warrior training. I will surely be using them as a resource guide in my Zen Warrior training program.
Aaron Hoopes, founder of the Zen Warrior Training Program and author of Zen Yoga
____________________________________________________________________________________________

Overall, the list of of martial artists and authors who have endorsed Dr. Sanders' books and philosophy speaks for itself. These are books that have the power to CHANGE YOUR LIFE for the better, and have actually been called LIFE-CHANGING by many. Living the warrior lifestyle is not about fighting or being macho. The warrior lifestyle is about living your life to the fullest – living a life of excellence. 
To see more testimonials about the power of Dr. Sanders' books and writing, check out our testimonials page.
Enjoy exploring The Wisdom Warrior Website!
___________________________________________________________________________________________________________