The Iron Master – The Best Martial Arts Training Machine Ever!
Categories: Current News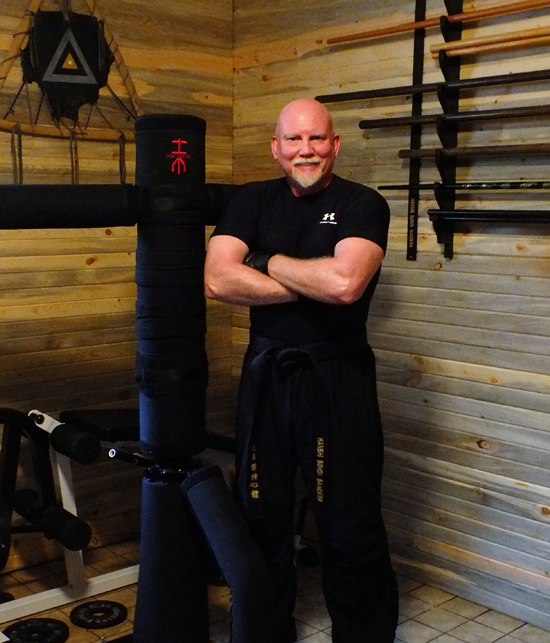 The Iron Master – The Best Martial Arts Training Machine Ever!
I have to say, I have some of the greatest fans and readers in the world! One of my readers, Joseph Gates, happens to be an engineer and has made one of the best martial arts training dummies that I have ever used. In fact, I would say it is THE BEST training dummy I have ever used. It is called The Iron Master. This machine is excellent! Joseph contacted me a few months ago, said how much he enjoyed my writing, and asked if I would be interested in testing out his new machine, The Iron Master. I said absolutely, and it has now turned into my #1 training aid.
The Iron Master is a versatile Wing Chun dummy with a modern twist. It can be used as a traditional Wing Chun dummy or the arms and legs can be customized in many positions in order to customize your workout. It comes with four arms, three legs, and the main body, all made from steel with durable canvas padding. The arms and legs can be put into various positions easily and quickly. And The Iron Master can take a beating! I have not pulled my punches or my kicks, and this machine has held up 100%!
Not only can you practice your kicks and punches on The Iron Master, but it also has a major advantage over the traditional Wing Chun dummy – it will throw a punch back at you, so you can also practice your blocks! You can lock it into position for a stationary workout or with a twist, it turns into an moveable, rotating machine that throwing punches in order to help you practice your timing and blocking/punching combinations. I have to say, I absolutely love my Iron Master!
Another great perk of this training dummy is that it is padded enough to allow you to hit and kick it with full force, but the canvas covered padding is firm enough to condition your fist, just like a makiwara board or post. It has just the right amount of give to it when you strike it, but it sturdy enough to take as much punishment as you can dish out.
There is nothing else on the market like The Iron Master. It is the most realistic training machine that I know of, and is made of steel, so you will not break it. But, it you are superman and you do break it, it also comes with a lifetime warranty, so you are still good to go!
Here are some of the advantages of The Iron Master:
* You can practice anytime, without a partner.
* It helps enhance your speed, technique and endurance.
* It has multiple configurations for many practice styles and drills.
* It adds versatility to your gym or martial arts studio.
* You can practice with simulated human legs and arms.
* You can attack this sparring partner with full-force.
* It has various mounting options for different surface areas
* It is covered with tough canvas and durable padding.
* It is padded enough to protect you, but can also be used for conditioning.
* You can workout with a moving partner or a stable partner
* The welded steel components give it long-lasting strength and durability.
* It has a pin locking system for fast unit reconfiguration of the arms and legs.
* And, on top of all of that, it has a lifetime warranty on all steel components!
You can check out The Iron Master for yourself at: The Iron Master
There are several videos that show it in action and show you exactly how it works. This is a GREAT MACHINE. You want to get one of these for your home or dojo; once you do, you will be hooked! Bohdi Sanders ~ author of the award-winning bestseller, MODERN BUSHIDO: Living a Life of Excellence