It is better to be a tiger for one day than a sheep for a thousand years. Tibetan Maxim
Categories: The Warrior Lifestyle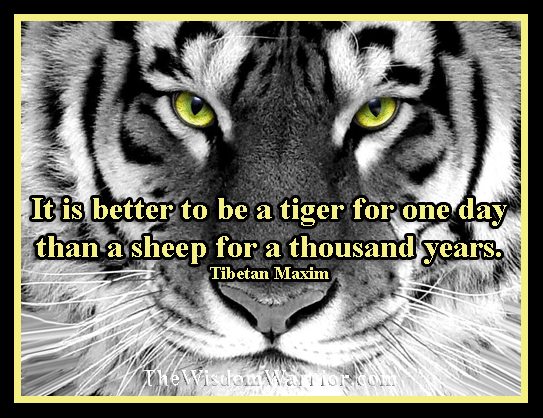 It is better to be a tiger for one day
than a sheep for a thousand years.
Tibetan Maxim
This is an interesting maxim from Tibet. It is better to be a tiger for one day than a sheep for a thousand years. Most people today are sheep. This is not a derogatory statement, but rather a statement of fact. Sheep go through life pretty much oblivious to what is happening around them. They eat, drink, sleep, and follow their shepherd wherever he desires to lead them. A sheep is a peaceful animal and presents no threat to other animals; it just kind of goes through life on auto-pilot.
The tiger, on the other hand, roams the jungle with confidence and awareness. Tigers have no shepherd to protect them or guide them to food and water. A tiger is a self-sufficient animal capable of not only providing its own food, but of also defending itself against pretty much any threat. Tigers are proficient killing machines when they have to be. Their confidence shows in their unflinching gaze. They set their own law in the jungle.
The Tibetan maxim above tells us that it is better to live like a tiger, even if it is only for a short time, than it is to live many years as a sheep. The warrior has much more in common with the tiger than he does with the sheep. He is confident and independent. He is self-sufficient and fierce. Warriors roam the streets of the jungle knowing that they can handle most anything that comes their way. It is better to be a warrior for a year than a sheep for 100 years.
Bohdi Sanders
excerpt from the book
WARRIOR: The Way of Warriorhood
WARRIOR: The Way of Warriorhood HITS #3 on Amazon.com's Best Seller List!
This is the highest WARRIOR has ever been ranked!
I want to thank you all very much for supporting my work!
Amazon Best Sellers Rank:
#3 in Kindle eBooks > Sports > Individual Sports > Martial Arts
#7 in Books > Sports > Individual Sports > Martial Arts
#93 in Kindle eBooks > Nonfiction > Self-Help > Motivational
WARRIOR: The Way of Warriorhood is available in
BOTH paperback and on KINDLE on Amazon.com at:
BUY WARRIOR ON AMAZON.com.
Signed copies are available on my website
THE WISDOM WARRIOR BOOKSTORE.